Meander Apparel is a clothing brand on a mission to simplify life for the modern adventurer with a versatile collection that has both style and performance. Created by Jill and Steve Henry and inspired by their love of adventure, travel and minimalist Scandinavian design.
The idea was born following a charity cycle from London to Paris that Steve and Jill organised in the run up to an expedition to the North Pole for the charity Wooden Spoon.
Wanting to pack light and struggling to find a jacket that was at once fully waterproof, breathable, comfortable for cycling and stylish enough to be worn off the bike.
We couldn't find anything and that's when we realised there was a gap for clothing that had the performance and style in equal measure.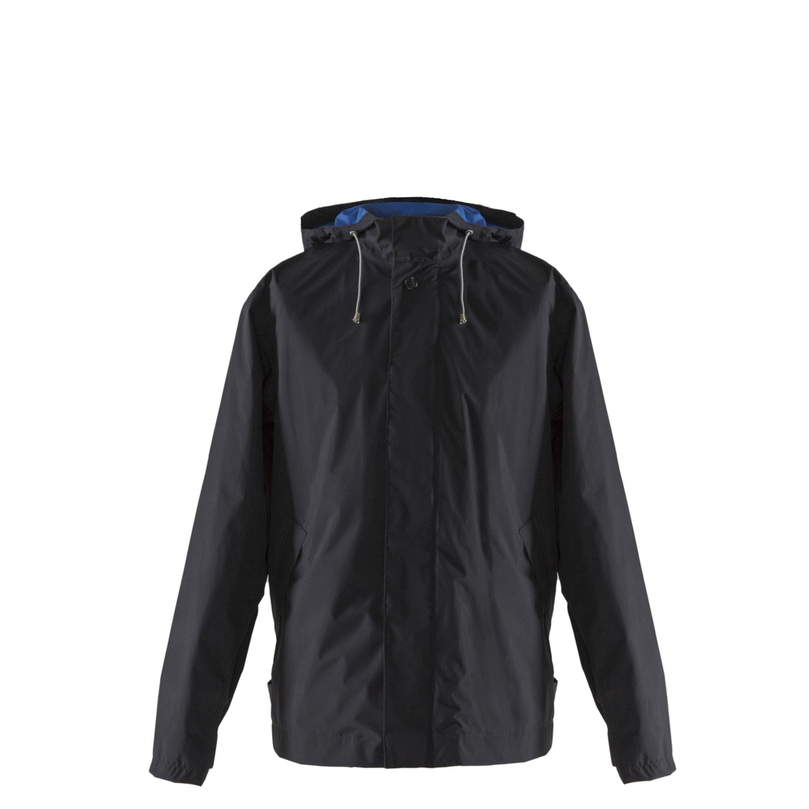 We launched the first Meander jacket on Indiegogo in 2018 and it was exactly the jacket we wish we'd had on the cycle to Paris.
Our multi functioning, packable jacket created is designed for the urban adventurer and commuter cyclist.
It is made with a luxury Italian fabric from a mill in the Como region and is fully waterproof (over 10,000 mm) lightweight and breathable.
We've added plenty of reflectivity in the cuffs, rear pocket and hood. The elements in the cuff and rear pocket can be tucked away so that you look your best when you're not cycling
Designed to be adaptable in changing weather conditions, the jacket packs into its large rear pocket and can be used as a backpack or messenger bag using the included straps. We also offer an optional saddle bag kit to attach to your bike
The Meander Jacket is available to buy on-line here and we are currently developing a full sustainable collection for commuter cyclists that will launch in May 2019.
Our Values:
Style & Performance in Equal Measure
Our products are always designed with performance in mind, but style is never an afterthought – you can look good at the bar or at meetings too.
Sustainability
We work with the best quality suppliers, design timeless products that are made to last and work with responsible ­suppliers to reduce our carbon footprint.
Minimalism
Our products and our business focus on simplicity and functionality, we never over complicate things.
Giving Back
We love our planet and we will give back by donating to environmental charities and offsetting our carbon emissions by planting trees.
Value
We produce high end clothing for the best possible value.
SUSTAINABILITY
We have placed sustainability as the first in our brand values of Sustainability, Minimalism, Quality & Value and Giving back, though we think that all of them complement each other in ensuring that Meander has a positive effect on the world we live in. First and foremost we want to make sure that we manufacturing our clothes in a sustainable way (we're still learning about new ways we can improve here), but then by creating minimalist and multifunctioning pieces and by crafting quality clothes that are made to last we hope to reduce the amount of consumption and associated environmental impact. Finally when we are able to we intend to give a portion of profits to environmental charities to ensure that our impact is a positive one.
Carbon Neutral Production
We strive to produce as little CO2 as possible and have partnered with a mill that sustains itself with clean eco-friendly energy. For the CO2 that we do produce we then offset this by planting trees which will soak up CO2 as they grow.
One Tree Per Jacket
We want to do more than just offset our emissions, so we have teamed up with Forest Carbon to plant 1 extra tree for every jacket sold in a local woodland in the Scottish Borders. These woodlands can regulate water quality and supply, reduce soil erosion, stabilise riverbanks and mitigate flooding.
Transportation
CO2 emissions linked to transportation can represent 50% of the total carbon impact of a product & transporting goods by air can produce as much as 100 times as by sea. Our fabric mill, factory and distribution headquarters are all based in Europe to minimise transportation and we try to use the least polluting modes of transport available.
Made to last
Fast fashion has become one of the largest contributors to pollution from the clothing industry. It usually involves vast transportation, more polluting manufacturing methods and isn't made to last. We don't want to be a part of that, so our jackets are made to last and we've made timeless styles that will look good in your wardrobe for years to come.
Lifetime repair service
In line with creating our products to be made to last, we are offering a lifetime repair service on all of our product. If there is any wear and tear, then send it back to us and for a nominal handling charge we will fix it up and get it right back to you.
No Harmful Chemicals
Our mills do not use of PFC (linked to cancer and birth defects) or other harmful chemicals and are committed to the ZDHC roadmap to tackling the issue of hazardous chemicals in the textile supply chain. The leather straps we use for our saddle bag are tanned with vegetable tannins rather than the more common and harmful Chromium.
Factory
We believe that its really important to know where your clothes are getting made, especially in the wake of the Rana Plaza disaster in 2013. Our fabric comes from a family run mill in Italy and we are happy to work with a specialist performance factory in Sofia that we've visited during development of our products and can trust in their high standards.
Constant Improvement
To us this is just the start. We are constantly learning and know we can do better, so we are committed to constantly strive to have as little negative effect as possible and have as much positive effect as we can on the world we live in.